FOR IMMEDIATE RELEASE
The annual Down East Viking Football Classic will be held in Rocky Mount, North Carolina on Saturday, September 9, 2023, with a game start time of 1 p.m.
This year marks the 26th year for this major sports partnership between Elizabeth City State University and the community of Rocky Mount, NC. ECSU Chancellor, Dr. Karrie G. Dixon, said, "There are not many activities that have the longevity and success of our very own Down East Viking Classic. We are looking forward to another fabulous weekend experience with the community and our distinguished alumni."
ECSU Director of Athletics, James DuBose, Jr., said, "The Down East Viking Football Classic has grown each year drawing over 10,000 fans to the Rocky Mount Athletic Complex. Through this family-friendly event, attendees will have the opportunity to enjoy the game as well as a variety of entertainment activities. Plus, through proceeds from the event, we will be able to offer athletic scholarship opportunities for student-athletes."
The schedule of the extended weekend of activities, in addition to the 2023 Down East Viking Classic football game, is below: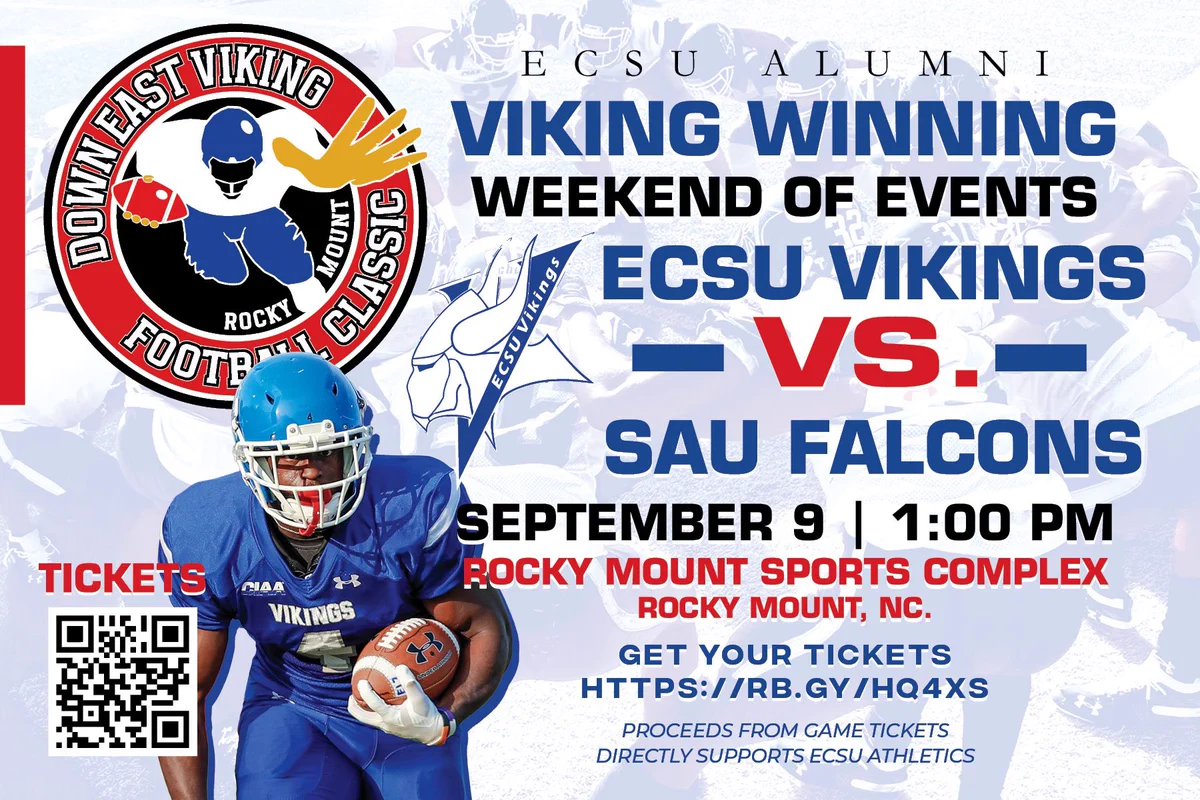 Friday, Sept. 8

9 a.m.

Down East Viking Classic Golf Tournament, Honoring Dr. Claudie J. Mackey

Belmont Lake Golf Club; Foursome: $260

Dr. Kimberly Miller 252-335-3354

(Deadline to register is August 31, 2023)

6 p.m.

Viking Pride Fan Zone Pep Rally

Rocky Mount Event Center

8 p.m.

Viking Pride Kickback

Rocky Mount Double Tree Hotel Ballroom

Saturday, September 9

11 a.m.

Game Day Tailgate

1 p.m.

Classic Game: ECSU v St. Augustine's University

Rocky Mount Sports Complex

8 p.m.

Club 1891: Denim & Diamonds Alumni Soirée

Dunn Center , North Carolina Wesleyan University ($30 - Advance Tickets Only)

Sunday, September 10

9 a.m.

HBCU + Divine 9 Sunday featuring ECSU's University Choir

Word Tabernacle Church

821 Word Plaza, Rocky Mount, NC 27804
Visit https://www.ecsu.edu/down-east.php for sponsorship, game day tickets, and to get additional information or call (252) 335-3354 (Athletics), at (252) 335-3498 (Alumni Relations), or (252) 384-1175 (University Advancement).
About Elizabeth City State University
Founded in 1891 Elizabeth City State University is a public historically Black university in Elizabeth City, North Carolina. The University enrolls nearly 2,500 students in 28 undergraduate programs and four graduate programs. ECSU is a member-school of the Thurgood Marshall College Fund and the University of North Carolina system. In addition to offering a best-in-class higher education to a diverse population of students, ECSU is the only four-year collegiate aviation education program in the State of North Carolina, offering a Bachelor of Science degree in Aviation Science.