Elizabeth City State University (ECSU) recently graduated its first class of Air Force Detachment – 1 Aim High Flight Academy (AHFA) students. The 24 students arrived in Viking Land this summer from several states and Air Force Bases in Japan, Germany, and South Korea. Participants earned 15 hours of flight and ground school time and got hands-on flight experience on an ECSU aircraft, and simulation training experience.
AHFA Student Ryan Johnson, 17, is the son of a former Air Force pilot who now aspires to be a commercial pilot and potentially join the Air Force. Even with his familiarity with aviation, he enjoyed everything about what his experience at ECSU offered.
"(The program) was awesome … challenging and rewarding, and I loved my instructor," said Johnson, of San Antonio, Texas. "I found a lot of friends from all over the world. This definitely felt like a community."
ECSU Dean of the School of Science, Aviation, Health, and Technology, Kuldeep Rawat Ph.D., who helped launch the Flight Academy at ECSU, acknowledged students' hard work to complete the program.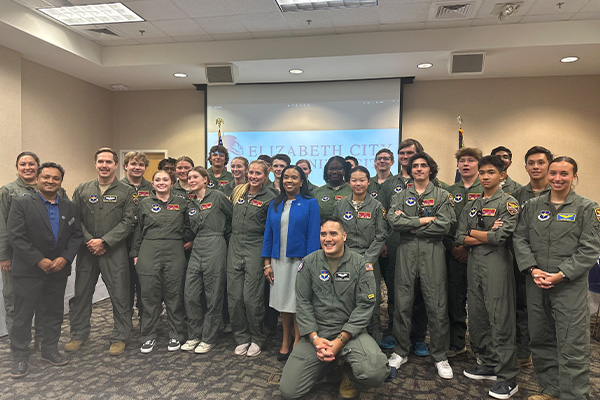 "These students are very focused and dedicated because they know why they are here, whether representing the Navy, Marine Corps, or Air Force. By completing this program, they have an edge over others who have not chosen this path," he said.
The event's keynote speaker was Major Matthew Roland, director of operations for DET-1. He encouraged students with the insight that the program was very selective, yet they were chosen.
"You are advocates now," he said. "I hope you consider joining the Air Force and making your mark on the world. The sky is not the limit. It's just the beginning."
ECSU Chancellor Karrie G. Dixon also addressed students with a motivational message to strive for excellence.
"Whether learning new skills or achieving your goals, this mindset will set you apart as a leader and serve as a foundation for the rest of your lives, both personally and professionally," she said. "Students, as you leave our campus, may you go with courage, honor, and a steadfast commitment to making a difference!"