Shelves are stocked at the Elizabeth City State University (ECSU) Vikings Care Food Pantry. And, it's not only food. Laundry, toiletry, and personal hygiene items are also available at the space inside Griffin Hall.
"Students are usually surprised at the inventory we have," said Tony Coley, ECSU assistant dean of Communal Engagement in the Division of Student Affairs.
The Vikings Care Food Pantry is now open Mondays, 10 a.m. to 2 p.m., Wednesdays 1 to 6 p.m. and Fridays 11 a.m. to 4 p.m. According to an article on the National Center on Safe Supportive Learning Environments website, an estimated one in three students experience food insecurity on college campuses across the country.
And, like ECSU, many are combatting that by opening on campus food pantries.
"We want to make sure we are covering student needs from every angle," Coley said. "On campus, off campus and continuing education students are welcome."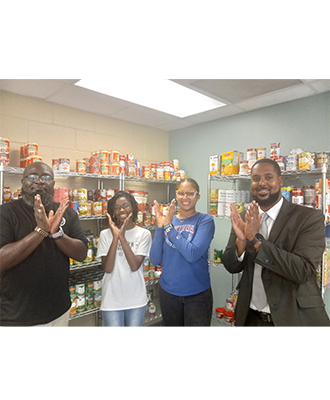 Eric Poyner, Cai'yah Bingham, Kayla Dixon and Tony Coley at the Vikings Care Food Pantry
The Vikings Care Food Pantry has serviced 539 students since opening in fall 2022. Since this semester began in August, 79 students have been patrons. ECSU partners with Food Lion to help stock the pantry and receives donations and support through Food Bank of the Albemarle. Student workers also utilize opportunities like sporting events to encourage people to donate items to the pantry shelves.
"People can pay to get into basketball games with a donation of some sort," said Kayla Dixon, who is in her second year volunteering at the pantry.
Organizers want to expand pantry offerings with vegan and gluten free options and bottled water. Inventory is managed by students who do a great job assessing needs, Coley said.
"There is a form generated that asks demographics and locations of students we serve," he said. "In addition, there is a suggestion and request box for students to complete if they really enjoy an item or items, or if they were looking for certain items."
With the goal of helping students eat healthily, nutritional recipes and food demonstrations are in the works to serve students.
"Now, (students) can get ingredients to make a meal," said Cai'yah Bingham, a sophomore in her second year working in the pantry. "We're giving (students) more of what they can eat, more options. I really like giving people food. What I love about it is, I know I'm helping someone be full."
ECSU Assistant Vice Chancellor and Dean of Students Nichole Lewis, Ed.D., said the effort is another way to galvanize students and ensure their success.
"We always want to be attuned to all our students' needs," she said, "and this is one of the ways we do that, tangibly."