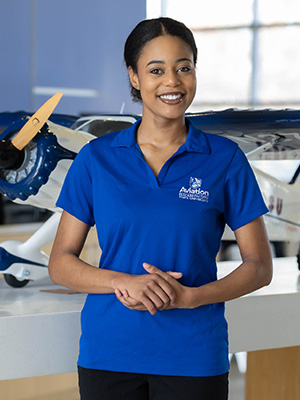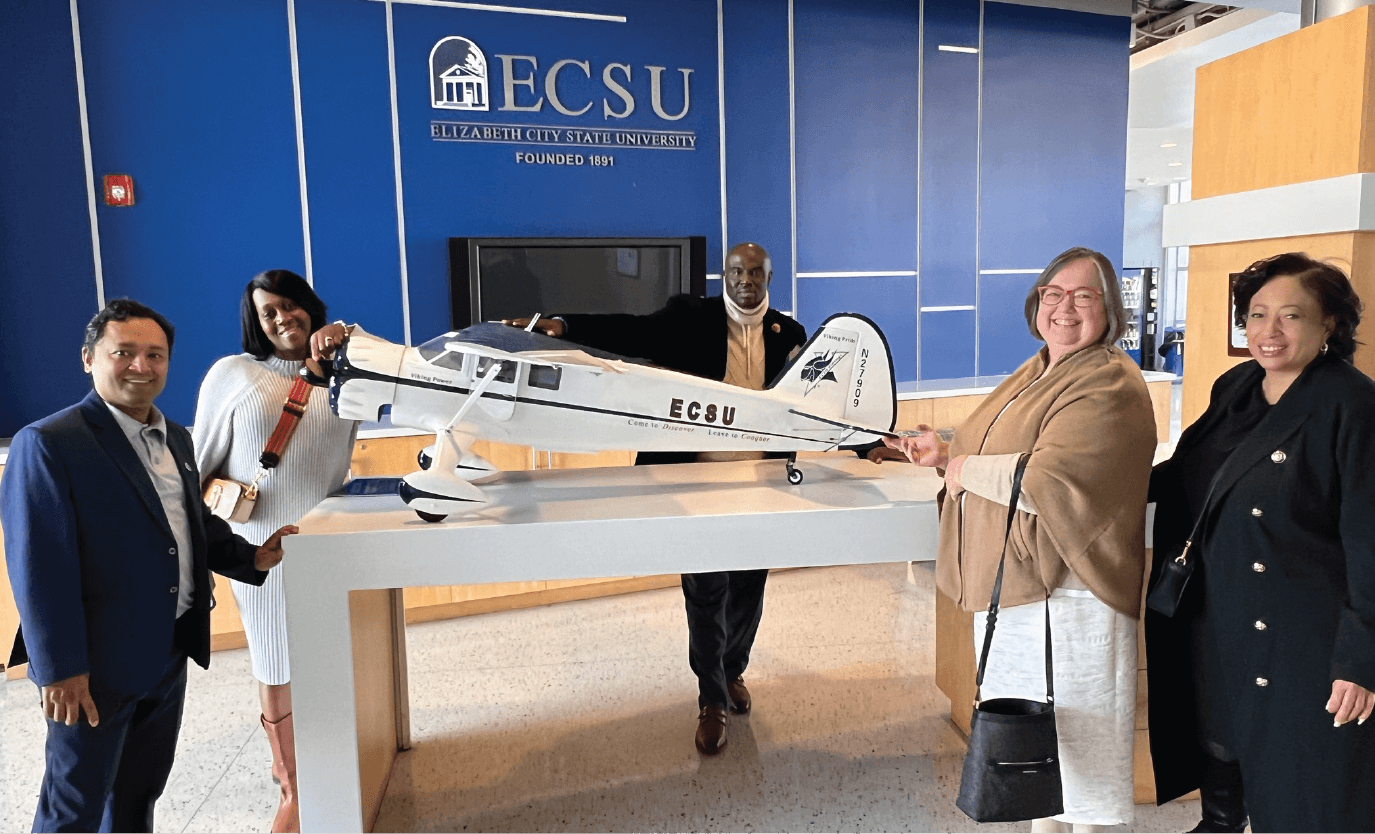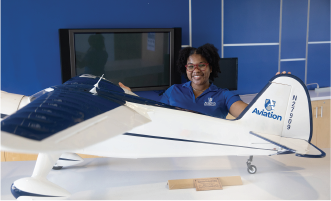 aviation sciences PROGRAM OVERVIEW
Soar to new heights in your career at the only four-year collegiate aviation education program in North Carolina.
The airline industry supports more than 65 million jobs worldwide, making it one of the world's largest employment sectors. Our aviation programs can help you find your calling in this diverse field.
With an airport just 1.5 miles away from the heart of our campus, you'll have easy access to hands-on experience at working aviation facilities. We also offer two majors to choose from and a wide array of concentration areas, including unmanned aircraft systems. You'll graduate with the skills you need to start the career you want in aviation.
Available Concentrations (click to view curriculum):
Available Minor (click to view curriculum):
The Aviation Science Program is the academic unit of Elizabeth City State University that educates and trains students for careers and opportunities in aviation. The University's proximity to many large and small businesses, manufacturers, military installations, and government agencies that are integrally involved with aviation and aerospace makes Elizabeth City State University ideally located for students interested in aviation and aerospace careers. For students interested in careers as professional pilots, the weather and temperatures of northeastern North Carolina are near perfect for maximizing the number of days available for flight training activities.
The aviation program at Elizabeth City State University offers students a comprehensive education in their chosen aviation area of study. Moreover, the curriculum offers general education and liberal arts courses that are intended to help students broaden their perspectives about themselves and their careers while, at the same time, giving them the knowledge and confidence to be successful in the competitive fields of aviation and aerospace.
Aviation students have a range of aviation program options from which to choose. An experienced and dedicated aviation faculty helps each student on an individual basis to choose the aviation program that best meets his/her career interests. This high quality, unique program is attractive to a broad range of potential students, from traditional-aged college students through community college transfer students, members of the Coast Guard or other branches of the military, and other adults in the area who have completed some college-level work but have not yet earned a four-year degree.
ECSU's Aviation Science program is among only a few aviation education programs offered at HBCUs across the nation. The program will continue to offer the most relevant curriculum to meet the general education and aviation education needs of the students, the community and the industries it serves. The aviation degree program and the specializations are designed to prepare students for the rigorous employment demands of the highly competitive aviation and aerospace industries.
NIFA National Intercollegiate Flying Association: The National Intercollegiate Flying Association was formed for the purposes of developing and advancing aviation education; to promote, encourage and foster safety in aviation; to promote and foster communications and cooperation between aviation students, educators, educational institutions and the aviation industry; and to provide an arena for collegiate aviation competition.
Aviate (United Airlines Pilot career development program): Aviation Science flight students can now apply to join United's Aviate program and prepare for a structured career pathway path leading to potentially becoming a United Airline pilot. By partnering with United Airlines, ECSU aviation students will gain access to:
A direct path to United. Aviate participants transition to United as a First Officer upon successful completion of the Aviate program and hiring requirements;
Travel privileges. Aviate participants enjoy travel privileges to hundreds of United destinations;
ECSU students participating in Aviate program will be paired with United pilots, creating a structured format for critical leadership and career development opportunities for ECSU students;
ECSU students will have opportunities for professional development events and programs providing a breadth of resources to learn and grow throughout the Aviate network.
Women in Aviation International (WAI): Women in Aviation International (WAI) is a nonprofit organization dedicated to the encouragement and advancement of women in all aviation and aerospace career fields and interests. Our diverse membership includes astronauts, pilots, maintenance technicians, engineers, air traffic controllers, business owners, educators, journalists, flight attendants, high school and university students, air show performers, airport managers, and many others. We are dedicated to: investing in our current and future workforce, developing an inclusive and sustainable aviation and aerospace industry, and inspiring girls to pursue careers in aviation and aerospace.
Alpha Eta Rho (AHP) is a professional collegiate aviation fraternity founded in 1929 to bring together students that have a common interest in the field of Aviation. Membership is open to all collegiate men and women who have a strong interest in any career within the aviation and aerospace industry. AHP is the oldest aviation organization on college campuses today!
The Southeast Chapter of the American Association of Airport Executives (SEC-AAAE): With more than 600 members, the Southeast Chapter is the largest chapter of the American Association of Airport Executives. This chapter represents twelve states as well as the Virgin Islands and the District of Columbia.The association is guided by a nine-member Board of Directors and an Executive Secretary.
University Aviation Association (UAA): The University Aviation Association (UAA) is the voice of collegiate aviation to our members, the industry, government and the general public. Through the collective expertise of our members, UAA plays a pivotal role in the advancement of degree-granting aviation programs that represent all segments of aviation. Today, UAA is comprised of over 1200 members from more than 220 colleges and universities in the U.S., Canada, Australia, Europe, and Asia. The organization and its members are poised to meet the ever-changing needs of the aviation industry and address the challenges of the 21st century.
National Business Aviation Association (NBAA): Founded in 1947 and based in Washington, DC, the National Business Aviation Association (NBAA) is the leading organization for companies that rely on general aviation aircraft to help make their businesses more efficient, productive and successful. The association represents more than 11,000 companies and professionals, and provides more than 100 products and services to the business aviation community, including the NBAA Business Aviation Convention & Exhibition (NBAA-BACE), the world's largest civil aviation trade show.
Aircraft Owners and Pilots Association (AOPA): AOPA is the beacon for those who cherish the freedom to fly. It demonstrates what is possible when a determined organization listens to its members, collaborates with its colleagues, finds solutions with its partners in government, and focuses its resources—all to secure the future of General Aviation. AOPA's success is proof that the public good can be served while individual freedoms are preserved.
Organization of Black Aerospace Professionals (OBAP): OBAP Inspires excellence and provides opportunities in aerospace by supporting, transforming, educating, and mentoring our members and communities
Professional Asian Pilots Association (PAPA): PAPA is dedicated to bringing awareness and support to all members of the Asian community in all fields of aviation. We hope to inspire current and prospective professionals towards a fulfilling career in aviation.
| | | | |
| --- | --- | --- | --- |
| FAR Part 141 Flight Lab | Fee | Max Hours | Course Requirement |
| FLT 117L Private Pilot Flight Lab Part I | $3,625.00 | 30 | Solo |
| FLT 118L Private Pilot Flight Lab II | $2,875.00 | 25 | End of Course Endorsement |
| FLT 327L Instrument Flight Lab | $5,000.00 | 40 | End of Course Endorsement |
| FLT 338L Commercial Flight Lab I | $7,500.00 | 60 | End of Course Endorsement |
| FLT 339L Commercial Flight Lab II | $7,500.00 | 60 | End of Course Endorsement |
| FLT 426L Certified Flight Instructor Ground/Flight Lab | $4,000.00 | 25 | End of Course Endorsement |
| OR | | | |
| FLT 346L Multi-Engine Ground/Flight Lab | $2,500.00 | 15 | End of Course Endorsement |
| Total: Including FLT 426L+ FLT 346L | $33,000.00 | 255 | |
Ready to get started?
We're here to help
We're here to support you throughout your time at ECSU–starting now. For more info on the admissions process, reach out to us directly.